What a better time to talk about the future of Boston than now. We know the Jackie Bradley Jr's and the Chandler Jones' of the sports scene. The first round draft picks and the late round draft steals. The 3 homer game by sophomore Will Middlebrooks and the defensive mastermind of third year guard Avery Bradley. We place special importance on the emergence of young players while continuing our praise for veterans whom our teams rely on for consistent difference making. All too often we're caught off guard by a surprise appearance from a young player whose stock has risen to the point where starting on their team is the only place that would feel right. These five players aren't in MVP consideration but may soon be leaders for their respective teams.
Xander Bogaerts – Portland Sea Dogs (SS)
The past two seasons, Bogaerts has batted over .300 and had seasons of both 16 and 20 home runs. Acquired in 2009 as an international free agent, Xander Bogaerts has been overshadowed by names like Jackie Bradley Jr, Matt Barnes and Jose Iglesias. So far this year he hasn't had an explosive offensive year, partly due to his move from AA to AAA but his ceiling is still very high. With the Sox's depth at shortstop (Drew, Iglesias, Bogaerts, and recent first round pick Devin Marrero) the infield for the Red Sox should be solid for the next few years. With such a crowded position, don't be surprised to see Bogaerts develop into a utility player similar to Pedro Ciriaco.
Malcolm Subban – Belleville Bulls (OHL) Goalie
Going into the 2012 NHL draft, Subban was ranked as the top goaltender in North America. He fell to the Bruins at the 24th pick and was the second goalie drafted only to Andrei Vasilevski. As Subban leads his team into the Eastern Conference Finals of the OHL playoffs, he stands with a 1.31 GAA (2.14 in the regular season) with an 8-2 record. This year the Bruins have a solid duo of Tuukka Rask and Anton Khudobin. Malcolm will most likely start in Providence but based on the trading block (along with the health of both Rask and Khudobin), Subban could very likely see playing time in the next few years.
Jared Sullinger - Boston Celtics PF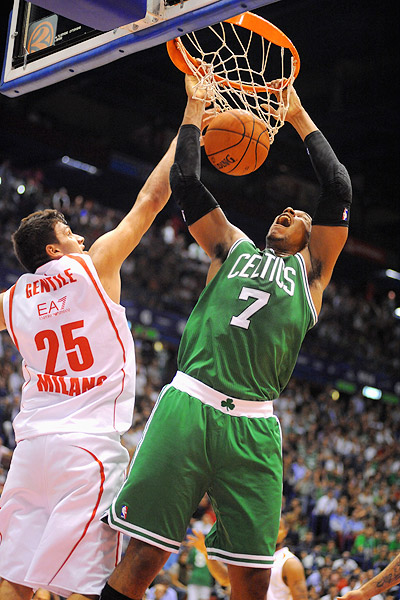 Jared Sullinger isn't an unknown name around Boston. He's the 2012 draft steal that was injured after playing phenomenally at the beginning of the NBA season. The rookie averaged 6 points and 6 rebounds per game, numbers that seem small when you watched him play. His contribution to the Celtics horrendous rebounding was huge and helped spark both the offense and defense. At one point Sullinger was among the rookie leaders in rebounding albeit going 21st in the 2012 NBA draft. Sullingers surgery should have fixed his back problem which was what may of caused him to slip during the drafting process. The soon to be sophomore out of Ohio State will have a lot to prove next year but should be a welcome, youthful addition into the Celtics lineup.
Ras-I Dowling - New England Patriots CB
As if the word "bust" wasn't thrown around enough with young players, the injury filled two years that Dowling has spent in Foxboro has been labeled a bust by countless fans. The tag "physical corner" comes with baggage in the NFL and in Dowling's case it's turned into injuries. He has appeared in just 9 games the last two seasons and has 10 tackles. With NE's secondary situation, the draft is certainly one way to recover and the 2013 draft has capable corners. If Ras-I can recover and play a full season at about the same level he should have his rookie year, he could make a similar impact as Patriots rookie Alfonzo Dennard did. With Talib at one side, the Patriots are looking for another corner to step up to his talent level and whether or not Dowling is capable of doing this depends on his health. When he's healthy and ready to play, he could play like the second round pick he was.
Andrew Farrell – New England Revolution Defender
When the Revolution traded up to get the number one overall pick in the 2013 MLS draft, they chose Louisville's Andrew Ferrell and it's a good thing they did. Although New England has had incredible trouble scoring, they've been the best defensive team in the league, allowing just two goals in five games played. Farrell is a defender with great speed and superb defensive ability. He often initiates attacks and has the on ball skills of a midfielder. His bursts of speed and ball handling skills show why he was chosen first overall and he looks to be a player for the future. Along with 24 year old outside back Kevin Alston, Farrell brings a young defender to the Revolution, a team already stacked with youth like 18 year old Diego Fagundez and 21 year old Kelyn Rowe.